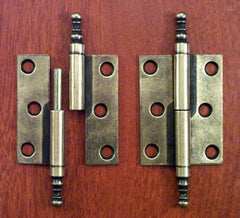 Lift-off Hinge
# QPH-0370
Lift-off hinge.
Length: 2-5/8", 3-1/2'', 3-3/4".
Finishes: antique brass, old brass, antique iron, old silver, black.
SAVE 25%
Clearance price: $12.00 to $18.50 pr. CAD
Reg. price: $16.00 to $24.75 pr. CAD 
Clearance limited to quantities in stock.
Note: Left hand shown here when face mounted.
         Select the reverse hand when installing the hinge on the edge of a door like an ordinary or butt hinge.